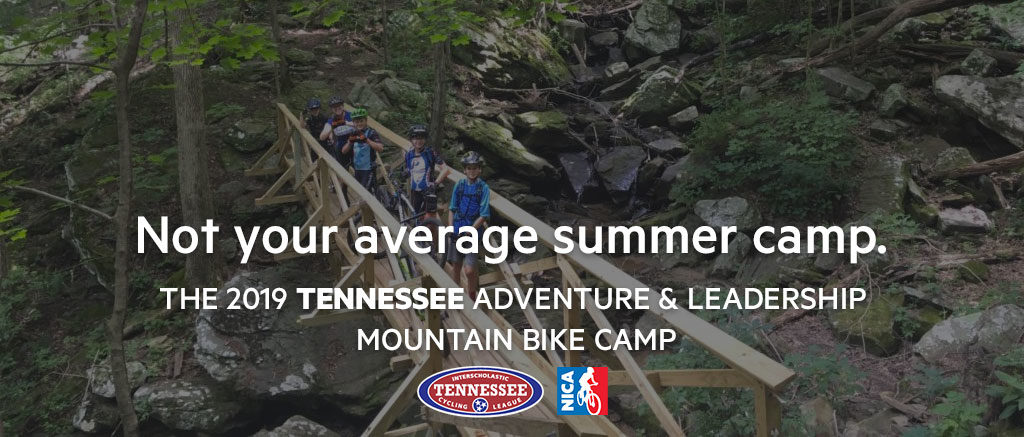 2020 Tennessee Adventure & Leadership Mountain Bike Camp
Tennessee Interscholastic Cycling League is launching its 3rd Annual Adventure and Leadership Mountain Bike Summer Camp. Come experience our mountain bike-fueled, co-ed adventure with some of the leagues favorite coaches in a healthy, supportive environment. Athletes will have daily leadership opportunities and training to improve their abilities on and off the bike. Camp reinforces the NICA mission and spirit by building off of your existing NICA experience.
St. Andrews-Sewanee School and the adjoining Univ of the South Sewanee Perimeter Trail systems will provide the setting for challenging and rewarding days of adventure. The variety of trails, vistas and other natural features promise to inspire athletes from any corner of the United States.
Evening presentations give the opportunities to connect 1 on 1 with mountain bike leaders from many areas of expertise including: trail building and maintenance, trail conservation, taking cycling to college, adventure-focused biking and hands on bike building for a Tennessee Interscholastic Cycling fundraiser auction to help kick off this season.
We'll be keeping the energy and fun-levels high with off the bike games, bonfires and great SAS dining hall food! What better place to grow relationships with NICA friends both new and old?
Key Details:
30 NICA League Student Athletes
10 NICA Trained Coaches
Guided Tent Camping
SAS Dining Hall Meals
Expert Guest Presentations 
        Bike Building for TN Preseason Auction
Dates:
May 27; 8:30 am through
May 31; 1:30 pm
Camp Fee
Register before May 15: $395
Late registration: $425
REGISTRATION OPENING SOON!! Log into your Pit Zone account and choose "race 1/camp option" to sign up. New and independent riders contact speed@tennesseemtb.org for assistance. Must have current 2020 NICA rider license.  
Offerings Include:
50+ Miles of Exciting, Scenic Mountain Trails, INCLUDING 2 Sections of New Trail! 
Tent Camping on Secure St. Andrews – Sewanee School Campus
Athlete Leadership Opportunities and Training
Adventure Element in NICA Ridership
Introduction to Trail Conservation and Maintenance
Building Inter-Team Friendships
Reinforcing NICA Mission and Spirit
Abundance of Ride Time
Lean bike assembly & mechanics – including wheel truing & building!
Requirements to Participate:
1-Year of Experience Participating in NICA (independent riders recommended to contact speed@tennesseemtb.org )
Intermediate to Advanced Skill-Level (be able to complete multiple laps on a NICA Course)
Ages 12-18
Regular Participation in Some Physical Activity Leading up to Camp
Must be Able to Keep Track-of and Take Own Medications
Gear Required:
Recently Serviced and Appropriate Mountain Bike (contact speed@tennesseemtb.org if you are unsure about your bike)
Helmet, Shoes, Gloves, 2 Water Bottles (or Camelback) & a Way to Carry Them, Clothes, Tools Needed to Repair a Flat, 2 Spare Tubes.
Camping Gear (some gear may be available from league to borrow; contact speed@tennesseemtb.org)
(Full Camper's Gear List Will be Provided with Specific Student Athlete Packet upon Registration.)
Contact speed@tennesseemtb.org for More Information or Questions
Daily Schedule:
7:30 am – Breakfast
8:30 – Ready for Ride
8:45 am – Skills, Games and Morning Group Trail Rides
12:00 pm – Lunch 
1:00 pm – Short Presentation/Activity (Bicycle Maintenance, Ice Cream SLOW Ride, 
Adventure Riding Stories, Bike Games)
2:00 pm – 3:30 pm – Town ride, Visit, Swim
3:30 pm – 5:00 pm – Short Afternoon Group Trail Rides
Schedule continued
5:00 pm – 6:00 pm – Stretching, Free Time, Shower Option 1 (Gym)
6:00 pm – 7:00 pm – Dinner
7:00 pm – 8:00 pm – Free Time, Shower Option 2 (Gym)
8:00 pm – 9:00 pm – Presentations
9:00 pm – 10:00 pm – Games, Free Time
10:00 pm – 10:15 pm – To Tents
10:15 pm – 10:30 pm – Bed Check, Lights out, All Quiet