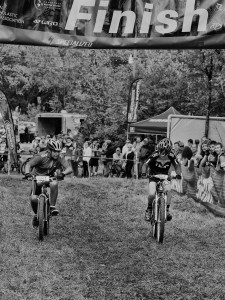 The Tennessee Interscholastic Cycling League was organized in 2012. With the generous support from our partners and sponsors, we provide high-quality and safe mountain biking programs for students-athletes in grades 6 to 12. Tennessee is a project League under the direction of the National Interscholastic Cycling Association.
Founded in 2009, the National Interscholastic Cycling Association ("NICA") develops interscholastic mountain biking programs for student-athletes across the United States. NICA provides leadership, services and governance for regional leagues to produce quality mountain bike events, and supports every student-athlete in the development of strong body, strong mind and strong character through interscholastic cycling.
The Tennessee League is committed to providing a positive racing experience for all student-athletes. With a commitment to teaching safe riding practices, we believe forming interscholastic and club teams with a NICA trained coach is the best way for students to have fun and learn how to ride safely. We welcome you to join the movement and get involved!
To stay up to date and learn more about the Tennessee League and our programs, please join our e-mail list. Or contact us via info@tennesseemtb.org
Mission Statement
The Tennessee Interscholastic Cycling League works to establish and maintain safe, quality high school and middle school mountain bike programs. The League is responsible for establishing a climate that will:
Provide students who have the desire to mountain bike with the coaching and camaraderie that will help them achieve both competitive and non-competitive cross-country mountain biking goals in a safe and enjoyable manner;
Develop an awareness of what it is to be an amateur athlete that is both gracious and respectful to their community;
Create an environment in which they may discover new friendships and find role models;
Guide students towards learning new skills and disciplines, and spread the foundations of mountain bike racing across the U.S.;
Foster a responsible attitude toward the use of trails and wilderness;
Promote the value of cycling to our community as a mode of transportation and as a life long sport.